Recover Faster with Rehab Xcelerator
RX supports are constructed with embedded silver and aloe vera and offer firm support, designed to be used early in the rehabilitation journey. Reinforcement from additional stays, lace-up compression systems, and a breathable material mean RX supports are perfect for pre and post surgery support.
Adjustable
COMPRESSION
Controlled, targetted compression with adjustable support
Enhanced
PROTECTION
Protect arthritic and injured muscles and joints with silicone inserts or additional stays
STRAIGHTFORWARD
EASY APPLICATION
Elasticated lacing system ensures stabilisation of joints and muscles
Embedded
Silver, Aloe Vera & Eucalyptus
RX supports are more hygenic for longer and help to soothe and soften skin.
INJURY
REHABILITATION
Provides confidence and protection at the start of your recovery and beyond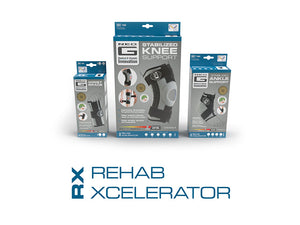 MEDICAL QUALITY
Neo G products are designed by orthopaedic professionals and registered as Class 1 Medical Devices.
TRUSTED BY PROFESSIONALS
Neo G is proud to be an official worldwide partner with The Chartered Society of Physiotherapy.
TRIED & TESTED
Neo G is a trusted high street brand with over 1 million supports sold and thousands of 5 star reviews.